About the Transit for All PA! Campaign & Coalition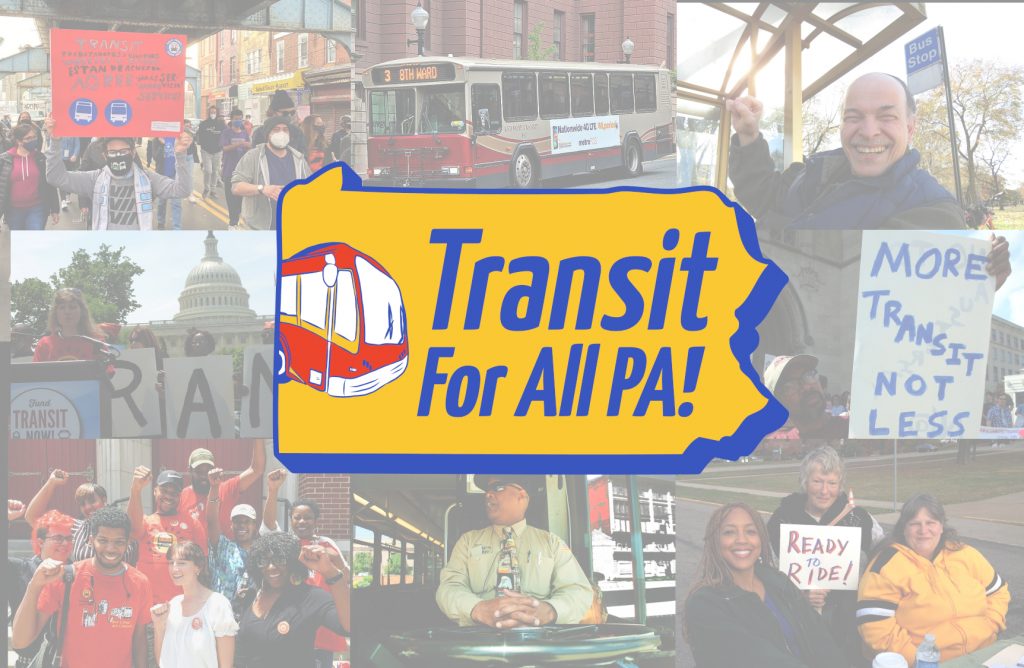 Transit for all PA! is an emerging statewide coalition of transit riders, transit workers, and transit-supportive organizations and businesses. Together, we are working to expand Pennsylvania's public transit systems to grow our economy and connect more Pennsylvanians to jobs, healthcare, and essential needs.
Over the last year, we have been coming together with transit riders and transit workers from all corners of the state to prepare a plan in the midst for the state's looming budget shortfall that will be left after PA's major transit funding act, ACT 89, expires in 2022.
Together we released a Transit Funding Platform to Move All Pennsylvanians in the spring of 2021. This platform puts forward a series of values and legislative goals for the replacement of Act 89. We have also worked with Pennsylvania's top public policy think-tanks to offer a "menu" of possible funding mechanisms for PA transit.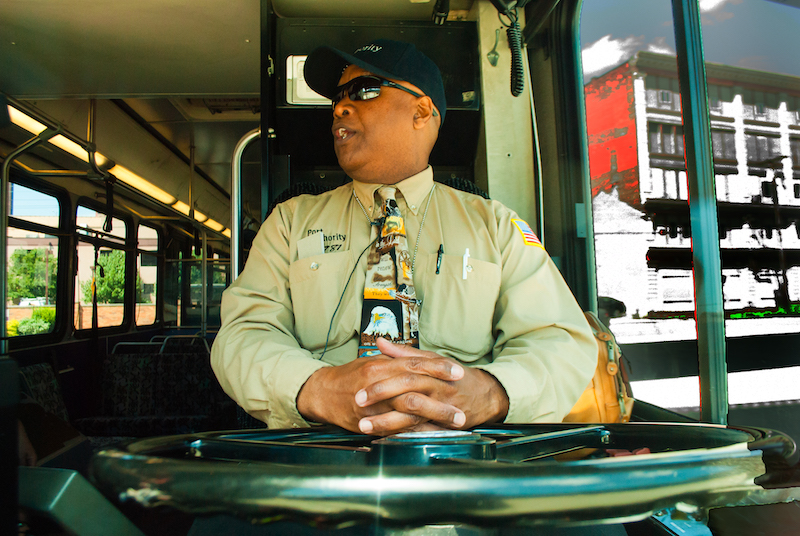 We see this moment as critical, not only for conserving those services that make our economy run, but for widening our vision of what is possible with robust public transit.
Public transit creates the possibility of connection—meaning a stronger economy, a more resilient environment, and a higher quality of life–and we are fighting for Transit to Move All Pennsylvanians.
Join the team and support the platform
Platform Supporters
Elected Officials
State Senator Nikil Saval, SD 1
State Senator John Kane, SD 9
State Senator Tim Kearney, SD 26
State Senator Lindsey Williams, SD 38
State Senator Katie J. Muth, SD 44

State Representative Austin Davis, HD 35
State Representative Ben Sanchez, HD 153
State Representative Chris Rabb, HD 200
State Representative Dan Frankel, HD 23
State Representative Ed Gainey, HD 24 (2013-2021)
State Representative Malcolm Kenyatta, HD 181
State Representative Mary Isaacson, HD 175
State Representative Mike Sturla, HD 96
State Representative Jennifer O'Mara, HD 165
State Representative Joe Hohenstein, HD 177
State Representative Rick Krajewski, HD 188
State Representative Sara Innamorato, HD 21
State Representative Summer Lee, HD 34

Bethany Hallam, Allegheny County Council, At-large
Derek Green, Philadelphia City Council, At-large
Helen Gym, Philadephia City Council, At-large
Joi Washington, Media Borough Council
Katherine Gilmore Richardson, Philadelphia City Council, At-large
Ismail Smith-Wade-El, Lancaster City Council President
Matt Shorraw, Mayor, City of Monessen (2018-2022)

Labor Unions
AFL-CIO Pennsylvania
Amalgamated Transit Union International
Amalgamated Transit Union PA Joint Conference Board
Amalgamated Transit Union Local 85 Pittsburgh
Amalgamated Transit Union Local 164 Wilkes-Barre
Amalgamated Transit Union Local 168 Scranton
Amalgamated Transit Union Local 568 Erie
Amalgamated Transit Union Local 1241 Lancaster
Amalgamated Transit Union Local 1279 Johnstown
Amalgamated Transit Union Local 1345 Reading
Amalgamated Transit Union Local 1436 Harrisburg
Amalgamated Transit Union Local 1546
SEIU Healthcare PA
Teamsters Local 776
Community Organizations & Businesses
1Hood Power
5th Square
350 Philadelphia
ACCESS Mob
Allegheny County Clean Air Now (ACCAN)
Allegheny County Transit Council
Alliance for Police Accountability
Anyone Can Dance
The Bicycle Coalition of Greater Philadelphia
BREATHE Project
BuxMont DSA
Casa San Jose
CAT – Coalition for Appropriate Transportation, Lehigh Valley
Center for Coalfield Justice
City of Pittsburgh/Allegheny County Task Force on Disabilities
Clean Air Council
CREATE Lab, Carnegie Mellon University
Dream Corps Green for All
Eastside Grassroots Coalition, Erie
Endless Mountains Extended Care, LLC.
Erie NAACP Unit 2262
fatfemmefly412
Green Party of Pennsylvania
Hill District Consensus Group
Jenkintown Environmental Advisory Committee
Just Harvest
Liberty Resources, Inc (Center for Independent Living – Philadelphia)
New Voices for Reproductive Justice
North 5th Street Revitalization Project
Oakland for All
Oakland Planning and Development Corporation
One Pennsylvania
PA Budget and Policy Center
PA United
PennFuture
Penn Plaza Support & Action
Pennsylvania Budget and Policy Center
Pennsylvania Interfaith Impact Network
Philly Transit Riders Union
Physicians for Social Responsibility (PSR) Pennsylvania
PIIN, Community of Reconciliation
Pittsburgh Area Pax Christi
Pittsburgh Black Worker Center
Pittsburgh Bus Information Hotline
Pittsburghers for Public Transit
POWER Interfaith
Progressive Montco
Rail Pollution Protection Pittsburgh (RP3)
Reclaim Philadelphia
Repair the World PGH / Serve the Moment
Restaurant Opportunities Center of Pennsylvania (ROC PA)
Scranton Area Community Foundation
Scranton Primary Health Care
SEAMAAC, Inc.
SEPTA Youth Advisory Council
Sierra Club of Pennsylvania
Sierra Club, Allegheny Group
Sunrise Movement Philadelphia
Sunrise Movement PA
Take Action Mon Valley
The Thomas Merton Center
Transit Forward Philadelphia
Urban Erie Community Development Corporation
UrbanKind Institute
Wanner Associates
West End P.O.W.E.R.
Working Families Party – PA