Millions of Pennsylvanians in all 67 counties rely on public transit each day.
Public transit operates in all of Pennsylvania's 67 counties – moving millions of riders each day, employing thousands of workers, and bolstering the economy of urban and rural economies throughout our state.
These PA transit riders, workers, and systems are already the engines of our economy and backbone of our communities. Together they connect families, seniors and youth to jobs, school, food, healthcare and commerce. They power our institutions, fuel our small businesses, care for our loved ones, and generate the taxes that make PA run.
The end of the state's major transit funding bill, Act 89, in 2022 presents both a cataclysmic threat and a transformational opportunity.
Losing public transit would be disastrous for Pennsylvania.
Expanding public transit is the ticket to propel PA into the 21st century.
Robust and dedicated funding for Pennsylvanians public transit will pay dividends. It will mobilize a workforce to power our economic recovery. It will revitalize Main Streets all across our state. It will protect our environment and reduce congestion, wear, and tear on our roads. Above all, robust dedicated transit funding will help legislators in Harrisburg avoid partisan gridlock and create access for seniors and families across our state.
Now is the time to put forward a bold vision for what public transit can do for our commonwealth.
This platform does just that. was developed by the transit riders and workers who are the daily drivers of PA's economy. We believe that robust and dedicated public transit funding is essential for a future of economic growth and expanded opportunity for all of PA's residents.
Read through the platform points below and sign-on to support Transit to Move All Pennsylvanians.
Menu of possible funding options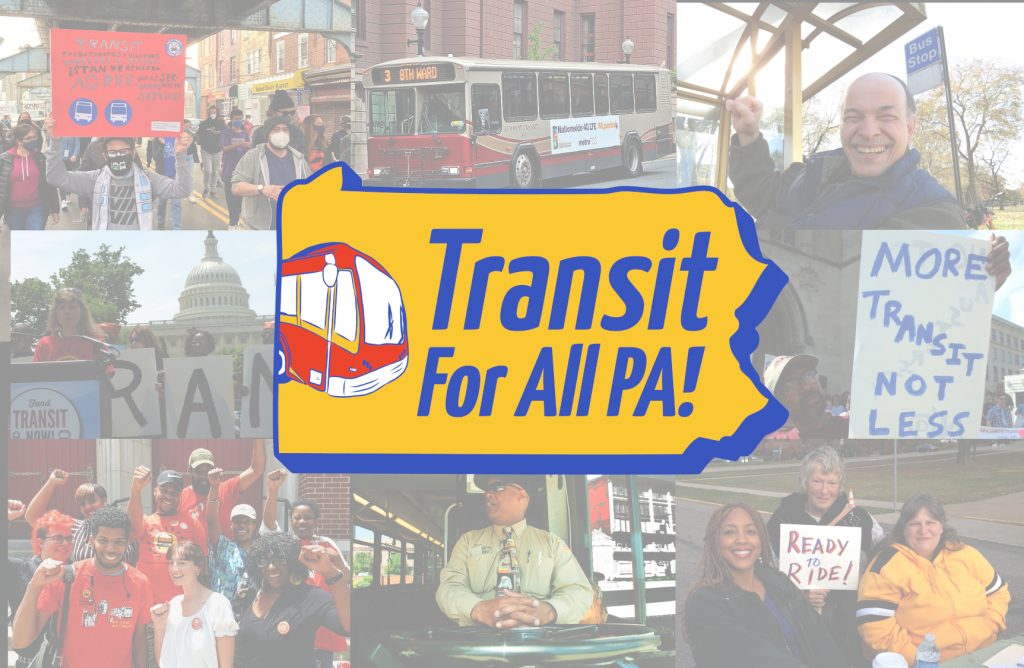 Sign-On to the Transit for All PA! platform
Whether you are an organization, union, business, politician or individual who supports public transit, you can sign on to this platform to save and expand transit access to opportunity in PA.
Enter your sign-on below and the campaign will be in touch with our next steps.